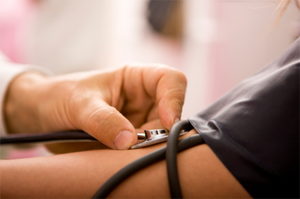 Heart health is one of the most important areas to our overall health. The circulatory system, comprised of the heart, lungs, arteries, and veins, supply oxygen to every cell in your body and brain. Heart, or cardiovascular, disease is the leading cause of death in the United States, and includes heart attack, stroke, coronary artery disease (constriction of the blood vessels), atherosclerosis (plaque build-up in the arteries), ischemic stroke, arrhythmias (problems in the heart's rhythm), heart valve problems, heart infections, and congenital heart problems. Although there is a certainly a genetic (family) component to heart disease, there also are many lifestyle factors that contribute to heart health.
Being obese or overweight, smoking, eating too much salt and fatty food, not getting enough exercise or being sedentary, and having high blood pressure (hypertension) and triglycerides all contribute to your heart risk. You can significantly reduce your risk of a cardiac event by exercising and eating a diet high in omega 3-fatty acids. The Mediterranean diet, particularly olive oil, has proved to be especially helpful.
Heart Basics
Exercise for Seniors: Benefits, Risks, and How To Begin: Exercise really is all they say it is. It lowers your risk of death from all causes. Yet people over 60 are more sedentary than ever. Calvin H. Hirsch, M.D., Professor, UC Davis Medical Center, discusses what exercise does for the body and the mind, from preventing falls to treating specific conditions. No matter what your current fitness, it's never too late to begin adding exercise to your life — and life to your years. >
FATS: How to Tell HDL from LDL: Your lipoprotein profile tells you a lot about your heart health. Cholesterol is made up of good lipids: HDL or high density lipoprotein; and bad lipids: LDL, or low density lipoprotein. Triglycerides are the most common fat in the body, with high levels associated with obesity, type 2 diabetes and heart disease. You can raise or reduce triglyceride levels with lifestyle choices – exercise, diet and alcohol consumption. >
Blood Pressure and Stroke
---
Aromatherapy for the Heart?:
Exposure to certain scents can lower heart rate and blood pressure. Just don't inhale them for too long.
Olive Oil to the Rescue:
Olive oil and its oleic acid can help reduce the risk of heart attack and stroke. People with the highest levels of oleic acid in their blood were 73% less likely to have a stroke than those with the lowest levels.
A Simple Shoe Lift Helps Stroke Recovery
:
Putting an insole in the shoe of a stroke patient on the unaffected side can improve balance and strength almost immediately.
High Blood Pressure in Kids and Teens:
Hypertension in children has doubled in the past ten years. Obesity is a major factor.
Bad Air Days:
High levels of air pollution can trigger heart attacks and strokes.
The DASH Diet:
This proven diet plan helps you reduce your salt intake to keep blood pressure down.