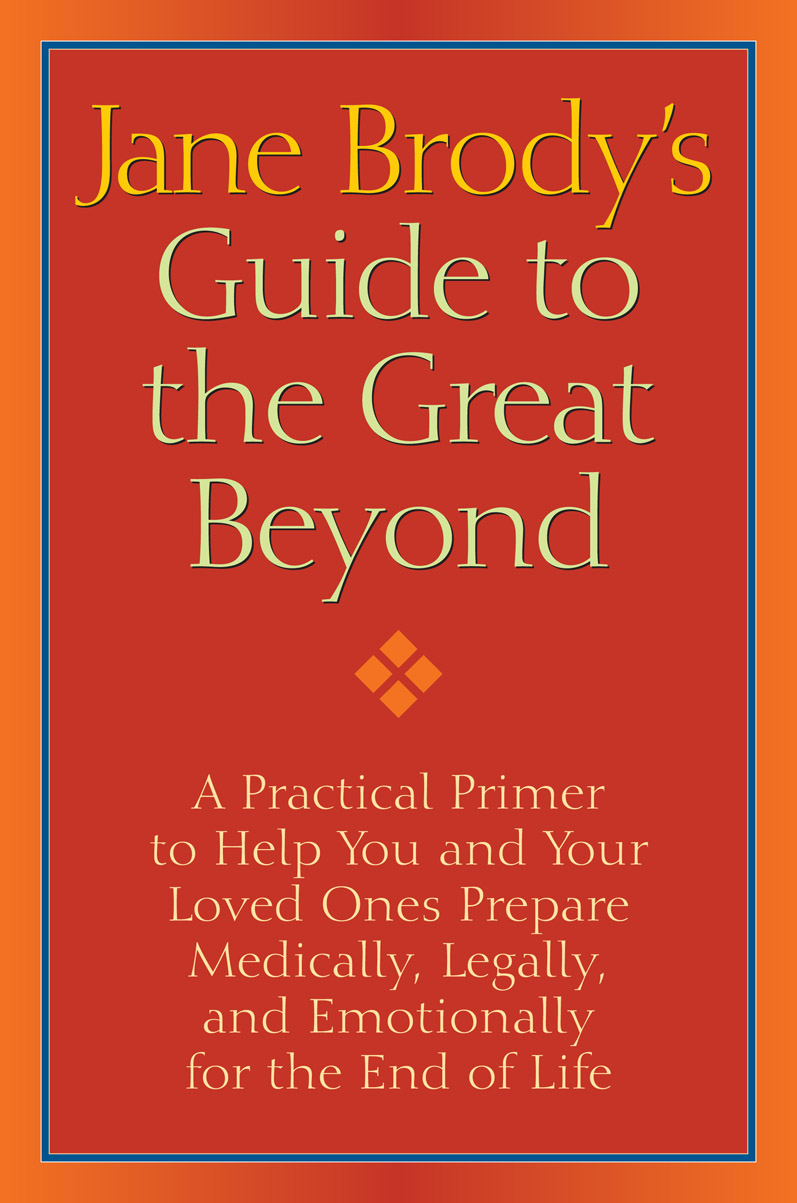 Editor's Note:
New York Times personal health columnist Jane Brody has written a book about a topic that most of us prefer not to think about — death. Specifically, she has written a practical guide to preparing for one's own death. She knows we tend not to want to think about this stuff and that is one source of this book's power and charm. She is able to present a great deal of practical information in a manner that is both straightforward and full of empathy. The result is that one comes away from Jane Brody's Guide to the Great Beyond: A Practical Primer to Help You and Your Loved Ones Prepare for the End of Life profoundly reassured. The following is an excerpt from the book:
Part 1

Get Ready Now For The Great Beyond

We live in a society of death deniers, typified by the failure of most of us to prepare for the inevitable, whenever and however our time will come to leave the world of the living.

The result can be undue anguish for ourselves in the course of our dying and those we leave behind, not only during our final days, but for weeks, months, even years thereafter.

In this section, you and your family will learn what is best done well in advance of the end and how to accomplish it. Perhaps you are now young and healthy and thinking, "Why worry about something most likely years in the future?" But when you are young and healthy is the very best time to start — with minimal emotional pressure to color your thoughts. Furthermore, as you well know but probably don't want to admit, you never know when your time, or the time of your loved ones, may come to cross over to the Great Beyond.
But when you are young and healthy is the very best time to start — with minimal emotional pressure to color your thoughts.
Fear not. Nothing you do or say now will be etched in stone. You can always make changes as your life circumstances, feelings, and beliefs alter. But without an initial template, waiting until the bitter end will make the task that much harder and perhaps even impossible to accomplish.

Chapter 1

Death Is Inevitable: So Be Prepared

There's only one certainty in life, and that is sooner or later it will end. No matter how good a person you are, no matter how important your contribution to society, no matter how healthfully you eat and faithfully you exercise, you will not — you cannot — live forever. That is an incontrovertible fact from which you cannot — and should not — hide. Despite the best that modern medicine can offer, there is no cure for mortality.

Yet the overwhelming majority of people are ill prepared for their final days, or the final days of the people they love. Some people are superstitious. They harbor an irrational belief that thinking about death is inviting trouble. But the real trouble comes from not thinking about death well in advance. Others simply haven't bothered. Why not put off until tomorrow what you don't have to do today? But what if tomorrow is too late?

No matter what your age or the age of your loved ones, the time to prepare yourself for the inevitable is now. You never know when the end may come and whether you will be able to speak for yourself as it approaches.

Too many people wait until it is too late to determine how they wish to spend their final days.

Too many people have neither discussed nor recorded their end-of-life wishes with the people most likely to have a say in the matter.

Too many people are at risk of ending up like Terri Schiavo, locked in a vegetative state for years while their families fight over how to proceed.

Too many people spend their dying days suffering needlessly with intractable pain or plagued by futile medical interventions.

Too many people assume incorrectly that having written a living will, they are protected from unwanted interventions when death is near.

And too many families are unprepared for the sudden, unexpected death of a loved one — young, old, or in between.

The terrorist attack of September 11, 2001, claimed 2,996 lives, nearly all healthy people and many in their thirties and forties with young families. A more commonplace tragedy occurred in August 2006 when a flatbed truck loaded with bricks slammed into a car carrying the young Christmas family of Queens, New York. Charles, age 40, and Theresa Ann, age 41, and their two-year-old daughter, Victoria, were killed, leaving their four-year-old daughter, Theresa, an orphan. The truck then overturned and crushed an SUV, taking the life of 37-year-old Norma Ryan but sparing her two children, Peter, age twelve, and Samantha, six months old.
... Few people acquire the knowledge and take the steps needed to be sure that the end of life is as peaceful and comfortable and, yes, as celebratory as it can be ...
All of these, to say the least, were horrid, unexpected deaths. For most people nowadays, the Grim Reaper approaches with far more warning. In 1990 cancer overtook heart disease as the leading killer among Americans under age 85, which means the majority of Americans now die slowly.
Yet even when there are weeks, months, or even years to prepare for the inevitable, relatively few people acquire the knowledge and take the steps needed to be sure that the end of life is as peaceful and comfortable and, yes, as celebratory as it can be, and that those who will be left behind are not overly burdened with medical and financial responsibilities, unanswered questions, and unresolved guilt.
In days of yore when deaths, other than accidental ones, occurred mainly at home, entire families — even young children — were familiar with it. People died at all ages — in infancy, childhood, childbirth, as well as in old age — surrounded by their loved ones, not strangers in white coats. Death was a part of life and, sad though it may have been, most everyone accepted it as such. There were no respirators, feeding tubes, needles, and fluid-filled pouches keeping people alive for weeks or months. No one had to decide when to turn off life-prolonging machinery or stop treatments for an incurable disease.
The case of Terri Schiavo, the 26 year-old who lingered for 15 years in a vegetative state sustained by a feeding tube while her family fought over the right to end her so-called life is perhaps the most dramatic illustration of the need for everyone — young, old, and in between — to be prepared:
To make your wishes known about how you want to be treated if you are unable to communicate them at the time.
To officially designate someone you trust to speak for you when you cannot speak for yourself.
To know how to find doctors who treat the whole person, not just the disease, and who will not abandon patients when cure or meaningful prolongation of life is no longer possible.
To know how to enlist the aid of the medical profession so that comfort and dignity, not agony and terror, are the hallmarks of your loved one's final days.
To know how to respond appropriately when someone is dying so that the final hours, days, weeks, or months of life are not needlessly traumatic and financially exhausting for you or your loved one.
To recognize and understand what happens, physically and mentally, when death is imminent, when hand-holding and reassurance, not food or drink or an oxygen mask or CPR, is the proper course of action.
To have a properly executed will so that your heirs will know how you wanted your assets distributed and will not become enemies battling over inheritance rights.
And perhaps most important of all, to assign guardians for your underage children, along with a means to support them, if possible, should they become orphaned by the death of both parents.
It has been nearly forty years since Dr. Elisabeth Kübler-Ross's best-selling book, On Death and Dying, turned this long-taboo subject into a socially accepted topic of conversation. Once the door had been opened, other books for the general reader followed: Final Gifts by Maggie Callahan and Patricia Kelly in 1992, How We Die by Sherwin Nuland in 1994, The Good Death by Marilyn Webb in 1997, Peaceful Dying by Daniel R. Tobin in 1999, The Needs of the Dying by David Kessler in 2000, On Grief and Grieving by Elisabeth Kübler-Ross and David Kessler in 2005, Last Rights by Stephen P. Kiernan in 2006, and Final Conversations: Helping the Living and the Dying Talk to Each Other by Maureen P. Keeley and Julie M. Yingling in 2007, among others.
Since Dr. Kübler-Ross opened the floodgates, many who work in the health care industry — nurses, physicians, social workers, chaplains— have written widely on the subject of death and dying in articles published in leading medical journals. Indeed, the Journal of the American Medical Association published an entire issue on the subject in 2000 and regularly runs articles under the rubric "Perspectives on Care at the Close of Life."
Avoidance and denial, not acceptance, are the states most commonly associated with the end of life, among physicians as well as laypeople like you and me.
The American Journal of Nursing
ran a yearlong series on caring for patients at the end of life. And many other leading journals —
the Archives of Internal Medicine
,
the Annals of Internal Medicine
,
the New England Journal of Medicine
, and the British journals
the Lancet
and
BMJ
, among others — have collectively published scores of research studies and discussions intended to enlighten physicians and other health care professionals about how best to cope with the myriad medical, ethical, and humane concerns that emerge when patients approach the end of life.
Still, there is so much ignorance about and resistance to this subject, much to the disservice of people who are dying and those who love and care for them. Avoidance and denial, not acceptance, are the states most commonly associated with the end of life, among physicians as well as laypeople like you and me.
For example, none of this information managed to penetrate the psyche of the leading oncologist who treated my friend Frank Crewdson in 1998 following a diagnosis of a relatively rare lung cancer unrelated to smoking. When it became obvious that the treatment the doctor had prescribed in hopes of "buying time" for his patient was not working, he sent in one of his henchmen — a physician who had had no prior contact with Frank — to tell him, "There's nothing else we can give you."
It was as blunt a death sentence as could be delivered, and Frank, who was alone at the time, had no one to help soften the blow. Furthermore, his physician never saw Frank again, never came in to say, "We tried our best, but I'm very sorry that our best was simply not good enough. We can promise, however, to make you as comfortable as possible."
Nonetheless, changes are taking place in how dying patients are treated, thanks largely to the hospice movement and to the ongoing debates about physician-assisted deaths. A new medical specialty called palliative medicine, which focuses on alleviating patients' symptoms and delivering humane medical care to patients whether they are expected to live or die, is gaining ground in hospitals nationwide. If properly executed, palliative care can obviate the need for laws to permit assisted suicides. Patients facing a protracted, fatal illness can spend their last days in comfort, saying their good-byes, imparting their wisdom, healing wounded relationships, and expressing their love and appreciation to family and friends.
Ordinary people today are speaking more openly about loved ones afflicted with diseases like cancer, AIDS, and dementia. It is less and less common in newspaper obituaries for people to die "after a long illness."
Now the task at hand is to help millions of people like you to face up to the inevitable long before it will be necessary to put those preparations into action. You just never know. Remember Terri Schiavo was only 26 years old.
You can — you must, for your own sake and the sake of those you love — help to change the culture of denial and avoidance to one of acceptance and preparation. You and your heirs will be glad you did.
For Further Reading
Kiernan, Stephen P.
Last Rights: Rescuing the End of Life from the Medical System
. New York: St. Martin's Press, 2006.
Chapter 2
A Good Death: There's More Than One Right Way to Die
"Death gives life meaning. Without death every birth would be a tragedy," Dr. Richard Smith wrote as editor of
BMJ
, the British medical journal. He recalled Jonathan Swift's writing in
Gulliver's Travels
:
Gulliver was vastly excited when he traveled to Laputa and heard of the Strudbruggs, the immortals. He imagined them with their "minds free and disengaged, without the weight and depression of Spirits caused by the continual Apprehension of Death." In fact, they were the most miserable of people. One of their "prevailing Passions" was envy of the deaths of the old.
Just as we have followed different paths in life, each of us must decide for ourselves how we want to be treated when death is near — where we want to be and with whom...and what best suits us as individuals.
Some people would say there is no such thing as a "good death"—that all deaths, except perhaps the deaths of terrorists and violent criminals, are necessarily unwanted and unwelcome. That may well be true when you are young, healthy, physically and mentally intact or, if not all of the above, at least still able to enjoy the good things and people in your life.
But what if you are very old and sick and no longer able to care for yourself? What if you become demented and no longer recognize or care about the people you loved? What if you have an incurable, untreatable illness that has progressed to the point where death is, as Hamlet put it, "a consummation devoutly to be wished?"
At such points, death might be a welcomed exit from an existence that has become intolerable or meaningless.
But I've discovered from people I've known and others I've read about, there is no one definition of a good death. Just as we have followed different paths in life, each of us must decide for ourselves how we want to be treated when death is near — where we want to be and with whom, and feeling, thinking, and doing what best suits us as individuals.
Some people, like my late friend Frank Crewdson, prefer the "security" of being in a hospital surrounded by equipment and medicines that can assuage any crisis, at least temporarily. Others, like my late friends Jessica Wing and Mickey Martinez, prefer to die at home surrounded by familiar, caring faces and caressed by their tender, loving hands and kisses.
Some, especially those with a deep, abiding faith, are ready to "meet their Maker" whereas others may refuse to acknowledge the approach of the Grim Reaper and insist that everything possible be done to treat their illness and keep them alive for as long as possible.
The five stages of death — denial, anger, bargaining, depression, and finally acceptance, so brilliantly described in 1969 by Dr. Elisabeth Kübler-Ross — are universal only in the sense that different people choose to die at different stages. In death as in life, there are different strokes for different folks. There is no one "right way" to die.
What can make dying especially painful for both the dying and those they will leave behind is when the two are at different, incompatible stages and neither is willing or able to budge:
The patient is in denial while the family has accepted the inevitable and only wishes the patient would prepare for it as well.
The patient has accepted the fact that death is near but loved ones keep scouring the Internet and insisting that this, that, or the other therapy& #8212; however outrageous — be tried when all the patient wants is to be left to die in peace.
The family is unable to relinquish anger over what they believe to be medical mistreatment — a missed diagnosis or improper therapy — while the patient has moved beyond anger to accepting the fact that doctors are human and mishaps are sometimes unavoidable.
The family is so grief-stricken that no one can "hear" the patient's attempts to settle unfinished business, express previously unsaid feelings, and bring life to a peaceful closure.
Excerpted from Jane Brody's Guide to the Great Beyond by Jane Brody Copyright © 2009 by Jane Brody. Excerpted by permission of Random House Group, a division of Random House, Inc. All rights reserved. No part of this excerpt may be reproduced or reprinted without permission in writing from the publisher.