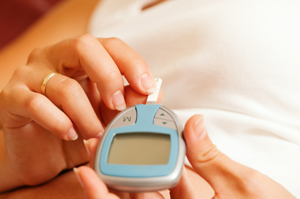 Approximately 220 million people suffer from diabetes across the globe, and rates for the disease are rising. There are two forms of diabetes. Type 1 or juvenile or insulin-dependent diabetes tends to arise during childhood. Type 2, adult-onset or non-insulin dependent, diabetes tends to arise later in life. Symptoms of both types of diabetes may include weight loss, frequent urination, extreme hunger and thirst, dizziness, fatigue, and mood problems like irritability. Type 2 diabetes symptoms may also include vision problems, numbness or tingling in the arms or legs, frequent infections and skin problems, and cuts that take a long time to heal.
High blood sugar (hyperglycemia) is the cause of both types of diabetes which appears to be an autoimmune disease. The pancreas may produce little or no insulin (type 1) or the body can become resistant to insulin (type 2), which is a hormone necessary for sugar to enter the cells of the body. Genes put one at greater risk for both types of diabetes. Being overweight and inactive are the major risk factors for type 2. Both lead to insulin-resistance, inflammation and metabolic syndrome. Depending on the severity of diabetes, it is treated with insulin injections or pills, and lifestyle changes like diet and exercise. People with both kinds of diabetes must actively monitor blood glucose with at-home tests that measure plasma glucose or hemoglobin AIc levels.
Diabetes Basics
Diabetes and the Nervous System: Diabetes affects many of the body's systems and functions, not the least of which is the nervous system. When too much sugar circulates in the blood stream over a long period of time (hyperglycemia), diabetic neuropathy can result. This article outlines the symptoms of diabetic neuropathy, how it progresses and is diagnosed, and the available treatment options.
Drugs for Type 2: This article outlines the different types of medications to help regulate blood sugar and manage type 2 diabetes.