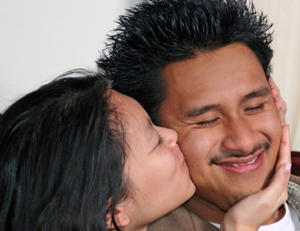 Staying healthy psychologically is just as important as staying fit physically. In fact, doctors and researchers are beginning to realize the mind-body connection is virtually impossible to separate. When we are happy or content we tend to have more energy. And as most people have experienced, feeling of stress, depression, and anxiety can manifest in mental and physical ways, leading one to feel physically run-down and fatigued. Recent studies have found that factors like social relationships, family support, and satisfying work are linked to better adjustment and a longer lifespan. On the other hand, chronic emotional stress can take a toll on one's heart, weight, sleep, sex drive, memory, and immune system.
There are many ways to improve our emotional and psychological health and more are being developed every day. Brain scans have given us a renewed appreciation for the positive effects of "talk" therapy and cognitive behavior therapy (CBT) for improving coping skills and resilience, deepening self-awareness, and making lasting emotional changes. Antidepressant medications, such as the SSRIs, are an effective way for many to break the emotional and biological grip of chronic depression. Alternative methods like yoga and meditation have also been found to affect the brain and improve overall emotional functioning.
Emotional Health Basics
The Happiness Dilemma: When scientists study happiness, or as they call it, positive affect, they tend to see a difference between the happiness offered by the immediate pleasures we chase and more lasting types of life satisfaction. It's not good enough not to be depressed. A circle of friends, a job we love, an optimistic outlook, and family all impact our happiness and health positively. A designer handbag, fancy car or other luxury goods? Not so much. >
The Psychology of Close Relationships is Dr. Ann Weber's course on intimacy and close relationships traces how important social connection is to us all. From attraction to jealousy to improving communication, it covers the rewards and risks of being close to others. Relationships can be a hugely satisfying part of life. The more you understand them, the better you'll feel, and the better they'll be. >
Emotional Health News
Better Language Helps Kids Cope: Helping kids with language development gives them the tools to express their emotions, rather than act out.
Good Partners Make Good Parents: Wondering what kind of parent you will be? Certain qualities make it pretty easy to predict.
How Our Brains Get Us Motivated: Motivation is the ability to decide whether an activity is worth the energy it will cost. We're starting to understand how it works in the brain, and the implications for depression.