For the past eight years, I've been treating a patient, I'll call him Rod.

When I first met Rod, he was hospitalized and frightened, facing an uncertain future from a serious disease. Rod knew he had some variety of sickle cell disorder because both of his parents had sickle cell trait. We tested Rod and, indeed, he had inherited sickle cell disease. Parents are often confused about screening for sickle cell disease and the National Institutes of Health (NIH) has provided a useful guide designed for use by parents.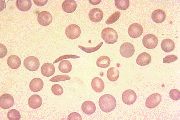 Figure 1. Three views of the peripheral blood smear of sickle cell anemia with red blood cell showing typical sickle shape.

From the American Society of Hematology Slide Bank. Used with permission.
...[P]atients are, unfortunately, too often given inadequate and infrequent doses of meperidine, a narcotic pain killer.
Meperidine is not recommended as a first line narcotic for a sickle cell crisis because it needs to be given every two hours and a form of meperidine, chemically changed by the body, can accumulate to toxic levels, causing agitation and even seizures. When narcotics are needed, morphine or hydromorphone are better choices. The Agency for Health Care Policy and Research has developed pain management guidelines that are very useful. They should be adjusted according to the patient's past experience.