The holidays are a great time...to gain weight. Here are tips for ways to avoid picking up pounds.
More >

Follow us
on Twitter.
Become a fan
on Facebook.
Receive updates
via E-mail and SMS: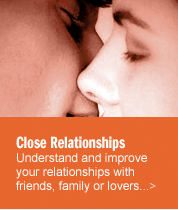 Would you like to ask our staff a question?
>

Join the discussion and leave a comment on this article
>
Fighting the Fad - Low Carbohydrate/High Protein Diets
Dr. Saltzman is Assistant Professor of Medicine, Director, Obesity Consultation Center, and Chief, Division of Clinical Nutrition, Tufts-New England Medical Center, and Scientist II, Jean Mayer USDA Human Nutrition Research Center on Aging, Tufts University School of Medicine, Boston.

Within the past three years, Dr. Saltzman has been a consultant for Ortho-McNeil and has been on the Speakers' Bureau for Roche and Abbott Pharmaceuticals.
There is no denying it — Americans are fat.

A shocking two-thirds of Americans are now classified as overweight or obese. Even worse, they are getting fatter. According to a 1999 survey, 44% of women and 29% of men currently were trying to lose weight. While it is clear that losing weight is difficult, keeping lost weight off is even more so. Approximately 85% of those who do manage to lose weight will return to their original weight within five years.

It comes as little surprise, then, that weight loss diets are all over the media and the bestseller list. Many of these diets call for significant changes in the proportion of dietary macronutrients — that is, carbohydrates, protein, and fat — we eat, as compared to the "average" U.S. diet. Among the most popular are programs that call for drastically reduced consumption of carbohydrates — the so-called "low carb" diets.

Let's look at what we know about the theory behind these diets, as well as what research studies say about their benefits and safety.



The Goal: a Balance between Energy Intake and Energy Output

In order to change body weight, we must create an imbalance between energy intake and energy expenditure; that is, we must burn more calories than we consume. There are three main types of energy expenditure. The first is called resting energy expenditure (REE); this is the number of calories we burn when our bodies are at rest. Believe it or not, REE accounts for approximately two-thirds of our daily expenditure of calories. Exactly how many calories we burn through REE is determined by an individual's proportion of lean body mass to fat. Leaner, more muscular bodies burn more calories while at rest than do bodies with less muscle and more stored fat. The second is called the thermic effect of feeding (TEF), or the amount of calories expended during food intake, digestion and absorption; this accounts for approximately 10-15% of daily energy expenditure. Finally, there is energy burned up through physical activity (Figure 1), which accounts for the remaining 15-20%.



Figure 1.

The Components of Energy Expenditure.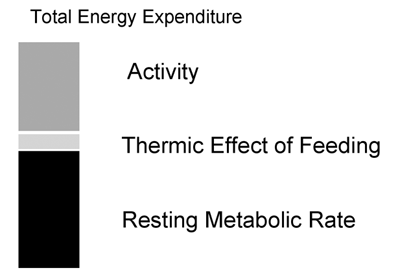 The amount of calories we eat is influenced by many things, including hunger and emotional factors, as well as environmental factors such as food availability and social norms. Many dietary factors also influence food intake, (Table 1).



Table 1.

Dietary Factors that Influence Energy Intake
Macronutrient composition (see below)
Fiber content
Taste and palatability
Energy density (calorie content per unit weight of food)
Glycemic index
Food form (liquid vs. solid)
Location (home, restaurant, etc.)
Food variety

We can look at dietary macronutrient composition in two ways: either as an absolute amount of each macronutrient — for example, x number of grams of fat — or as the percentage of our total energy intake (i.e., calories) supplied by each macronutrient — for example, fat consumption as x % of total calories. When we speak of a percentage of total dietary consumption, it is important to remember that any reduction in carbohydrate — without a reduction in overall calories — will necessarily mean an increase the percentage of fat and/or protein in the diet. In order to assess the effects of a low percentage carbohydrate diet, therefore, we also have to take into account the effects of increasing the percentages of other macronutrients.











No comments have been made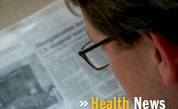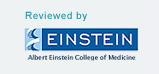 This site complies with the HONcode standard for trustworthy health information:
verify here.