Dr. Saltzman is Assistant Professor of Medicine, Tufts University School of Medicine, and Scientist II, Jean Mayer USDA Human Nutrition Research Center on Aging at Tufts University, Boston, MA.
Any opinions, findings, conclusion or recommendation expressed in this publication are those of the author and do not necessarily reflect the views of the U.S. Department of Agriculture.
Wars have been fought over sugar; people have been enslaved over sugar; and sugar has played large roles in national economies. You are born with a preference for sweet taste. The degree to which we prefer a sweet taste appears to vary because of factors such as genetic differences in taste receptors, age and exposure to sweet foods.

Nutritive v. Nonnutritive

Substances that impart sweet taste can be broadly classified as nutritive or nonnutritive. Nutritive sweeteners provide energy, usually as carbohydrates, while nonnutritive sweeteners provide very little or no energy. Nutritive sweeteners include:
monosaccharides such as glucose, galactose or fructose;
disaccharides such as sucrose, maltose and lactose;
longer chain carbohydrates such as oligosaccharides and polysaccharides;
sugar alcohols (polyols), which are derived from carbohydrates but are generally not absorbed completely in the small intestine.
Nonnutritive sweeteners include:
monosaccharides or disaccharides that have been modified to prevent absorption or utilization as energy;
amino acid molecules that have sweet taste;
novel or non-macronutrient molecules
The term "sugars" includes all monosaccharides and disaccharides, and the term "sugar" may refer specifically to sucrose.

Nutritive and nonnutritive sweeteners are considered food additives and are subject to approval by the U.S. Food and Drug Administration (FDA) by one of two mechanisms. Additives may be classified as generally recognized as safe (GRAS), based on experience prior to the 1958 Food Additives Amendment, or by petitioning the FDA for approval as GRAS. Most sugars are considered classified as GRAS, as are some sugar alcohols and novel sugars (see Table 1 below).

The other mechanism is approval under the Food Additives Amendment, which dictates testing for immediate and long-term health effects, toxicity, teratogenicity and carcinogenicity. Nonnutritive sweeteners are generally approved by this method. When approved as a food additive, the FDA may propose a level at which there would be no toxicity, called the acceptable daily intake or ADI. The ADI is a conservative level and is approximately 100 times less than the levels at which no toxicity has occurred in studies.

Measuring Consumption

Consumption of sweeteners is most often measured by two methods. The first method is an estimate of consumption of large populations or nations. Determination of the overall food item(s) available to a population is estimated by production and release, and is then adjusted for anticipated waste and spoilage. This method is usually described as either "food availability" or as "food disappearance".

The other method by which consumption is measured is by survey of large numbers of persons or populations, although measurement is conducted in far fewer individuals than could be assessed by food availability methods. Food intake data are generated by national or large surveys by use of dietary recalls or food frequency questionnaires. In general, disappearance data overestimate consumption, while survey data underestimate consumption.
High fructose corn syrup was introduced commercially in the 1960s and most of it is the product of enzymatic conversion of cornstarch to glucose and fructose, in proportions of 42%, 55% or 90% fructose.
According to food disappearance data from the U.S. Department of Agriculture (USDA), our consumption of nutritive sweeteners has increased approximately 20% over the last three decades (see Figure 1 below). In 2001 the average per capita added nutritive sweetener consumption was 31 teaspoons/day. The estimated percent of total dietary energy derived from sweeteners was 18%. Over the same period, there was a 35% decrease in cane and beet sugars, while corn sweeteners increased by 40% per cent. High fructose corn syrup was introduced commercially in the 1960s and most of it is the product of enzymatic conversion of cornstarch to glucose and fructose, in proportions of 42%, 55% or 90% fructose. In the U.S., the majority of high fructose corn syrup is consumed in soda and fruit drinks.
Survey data from the Continuing Survey of Food Intakes by Individuals (CSFII) and the National Health and Nutrition Examination Survey (NHANES) reveal trends similar to disappearance data. In 1994-1996, caloric intake from added sweeteners as a percent of total energy intake was 16%, and sweeteners from soft drinks and fruit drinks accounted for almost one-third of total daily sweetener intake. Large differences in sweetener consumption were noted among age, gender and ethnic groups. For example, the highest consumption levels were observed in adolescents (20% of energy intake) and particularly among girls age 14-18 years, 10% of whom consumed over 35% of calories from added sweeteners.
Figure 1.
Estimated Per Capita Sweetener Consumption, Total and By Type of Sweetener, 1966-2004.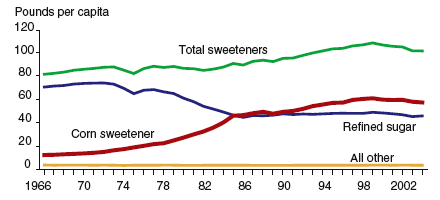 Source: USDA.