Probiotics can help reduce infants' colic, easing babies' discomfort and parents' stress.
More >

Follow us
on Twitter.
Become a fan
on Facebook.
Receive updates
via E-mail and SMS: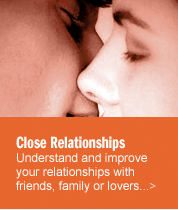 Would you like to ask our staff a question?
>

Join the discussion and leave a comment on this article
>
Burns: From Treatment to Prevention
Everyone has been burned or knows someone who has.

Each year in the United States, an average of 6,000 people are hospitalized for burns. In addition, more than 60,000 visit hospital emergency rooms for a burn related injury. Some burns are treated with first-aid only; others may require hospitalization or a stay in a special burn care facility, often followed by outpatient care. What treatment you receive usually depends on how the burn happened, how severe it is and the age, health, and general circumstances of the victim.

Statistically, males are more than twice as likely as females to suffer a burn injury. Most of these injuries happen to men in their 20s and are in some way work-related. The second most likely burn victims are young children, with liquid scalds and hot surface burns (radiators, heaters and 'potbelly' stoves) as the most common causes.

The most serious burns result from flames or scalds. About 5% of patients hospitalized with severe burns will die as a result of their injury. The majority of these are from flame burns. At least half of all people killed in building fires, however, die not from burns but rather from asphyxiation or carbon monoxide poisoning caused by fire.

Burn experts find it useful to divide burns into six major groups:
Scalds, including immersion in or splashing by hot liquids, grease, and steam.
Contact burns, i.e., touching a hot object or substance.
Fires
Chemical burns
Electrical burns
Radiation
Our discussion will focus on the first three types, which are more common.



Grading Burns

While this can get fairly technical, it may be useful for a victim, or friend or family member who is involved in the care of a victim, to understand the basics of how doctors grade the severity of burns. The two methods described below are the degree scale and the American Burn Association scale. Both are used as guidelines for decisions about treatment and treatment setting, for example, whether to treat a victim as an outpatient, in a hospital, or in a special burn center.

Even if they could not give a precise definition, most people have at least heard phrases such as "second-degree burns." Burns are graded as first, second, third, or fourth degree. When discussing these terms, it is important to keep in mind that they are somewhat subjective and that even experienced professionals commonly underestimate the severity of a burn at first sight.

As the diagram below shows, the human skin is made up of several layers. A key element of judging the grade of a particular burn is estimating how deeply — through how many layers — the burn damage goes.



Figure 1.

Cross Section of Skin.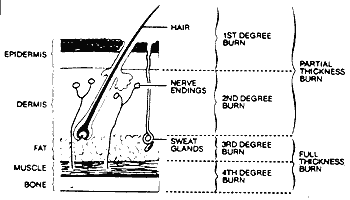 First-degree burns, the mildest type, are usually described as red, dry and painful. All but the worst kinds of sunburn fall into this category.



Figure 2.

Sunburn.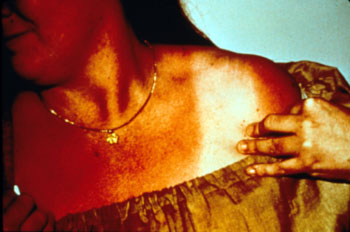 Figure 3.
Second-Degree Burns.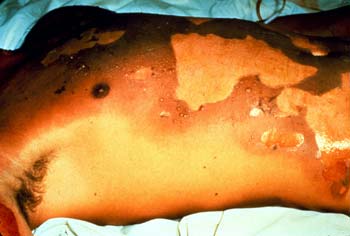 Third-degree burns are dry and leathery to the touch. The skin is numb, often white and feels hard or waxy. These burns do not heal on their own.

Fourth-degree burns involve the tissues beneath the deepest layers of the skin, including muscles, tendons and even bones.



Figure 4.

Deep Third- Fourth-Degree Burns.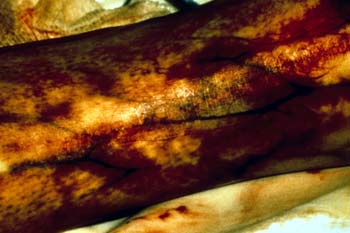 No comments have been made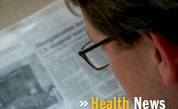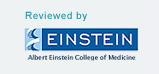 This site complies with the HONcode standard for trustworthy health information:
verify here.