People with drug or other substance dependence problems and those who are obese are less likely to have satisfying sex.
More >

Follow us
on Twitter.
Become a fan
on Facebook.
Receive updates
via E-mail and SMS: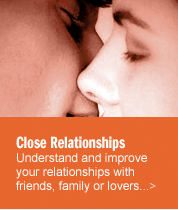 Would you like to ask our staff a question?
>

Join the discussion and leave a comment on this article
>
Scleroderma
Figure 3.
CREST Syndrome.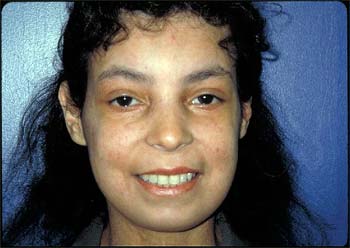 Along with tightened, shiny skin over the face, there are widespread telangectasias, or dilated blood vessels, creating numerous red spots on the skin, and a tightened mouth opening.

The two types of scleroderma are different in other ways as well. DcSSc tends to be a more aggressive disease, with more and stronger symptoms early on. The typical first sign of dcSSc is Raynaud's Syndrome, followed within a year by skin thickening, especially of the hands; overall fatigue; and joint problems. People suffering from dcSSc are more likely than those with CREST to go on to develop lung, kidney, gastrointestinal and heart problems. CREST progresses more slowly; sufferers sometimes have Raynaud's for many years before any skin changes. They are also far less likely ever to develop internal organ problems.
DcSSc tends to be a more aggressive disease, with more and stronger symptoms early on.
This difference in how they affect the body's internal organs explains the great difference in mortality rates between the two types of SSc. There is a five-year mortality rate of approximately 30-40% for dcSSc, as compared to only 20% for CREST.



Who Is at Risk?

For reasons that are not well understood, women are much more likely to develop SSc, by a factor of almost four to one. The incidence of the disease also varies by country and region, from rates of 3.7 cases per million people per year in Britain and Iceland to 18.7-22.8 cases per million per year in the United States. The average age at which sufferers first contract the disease varies by ethnicity and race. Whites typically develop their first symptoms in their 30s or 40s; while African Americans tend to be at least a decade younger. The racial differences are striking. Not only is SSc considerably more prevalent in African Americans than whites, but in African Americans the disease is almost twice as likely to be more severe and aggressive.

Understandably, the first reaction of those who are told that they have this disease is: "Why me?" That is an important question, one which medical science is vigorously trying to answer. Some research has suggested possible genetic causes or predispositions for SSc. Interestingly, however, studies of twins have not shed any light on this question.

The research on SSc echoes a recurring theme in autoimmune diseases — that while genetic susceptibility may be a prerequisite for the disease, it is probably not the only factor in determining whether or not someone gets the disease.

Most researchers feel that SSc is triggered by some environmental insult to the system of someone who is already susceptible, whether for genetic or other reasons. What kind of insult is not clear, despite epidemiological studies that have implicated exposure to some types of chemical solvents, silica dust and silicone implants. The fact that geographic "clusters" of SSc have been identified in England, in Italy and among the Choctaw Indians in Oklahoma provides strong evidence for the "environmental trigger" theory.



More About the Two Types of SSc

The progress of SSc can be quite different, depending on the type of scleroderma a person has. Those with early dcSSc tend to suffer from fatigue, joint pain and stiffness, weight loss, and "puffy" hands and feet, before or along with Raynaud's and skin thickening. The progression of skin thickening is rapid in dcSSc, usually peaking within two to three years and then beginning to recede.



Figure 4.

Digital Pitting.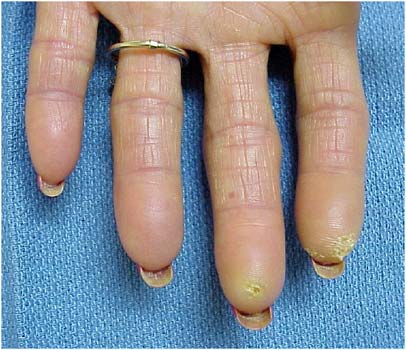 Note how the fingertips have lost their fat pads and appear pitted.











(
6
) Comments have been made
Vivienne Mills
i have Scleroderma for twelve Years i got some treatment form my Dr Feil and form the Peter Laugheed Hospital , this is the best Hospital in the world can treated this disorder, now i am felling much better my body is not stiff anymore i am going back to work i am still taking my medication and it working for me thank God if any one would like to get treatment Please call the treatment clinic (403)9562800 you will happy you did
Posted Fri, Sep. 26, 2014 at 6:27 pm EDT
s.p.jain
In case of a Juvenile scleroderma ( Morphea )an Autoimmune disorder how it is that disorder is noticed only one sid of body pl.S.P.Jain
Posted Sun, Jul. 20, 2014 at 1:41 am EDT
Margaret DeLorme
how can we keep blood count up,we have to keep getting blood transftion.
Posted Sun, Dec. 1, 2013 at 10:19 pm EST
Frances P
would black cherry juice help this condition
Posted Sat, Nov. 16, 2013 at 10:32 am EST
EASTER CAGE
MY SISTER HAVE THIS AND I WOULD LIKE TO NO CAN ANY ONE HELP HER,THE DOCTORS JUST FOUND OUT WHAT WERE WRONG WITH MY SISTER AND I WOULD LIKE TO NO IS THIER ANY KIND OF HELP FOR HER,OR HOW CAN WE GO BY HELPING HER
Posted Tue, Jan. 10, 2012 at 10:29 pm EST
Reyna lugo
How long can I live with scleroderma?
Posted Fri, Jul. 16, 2010 at 12:29 am EDT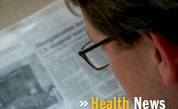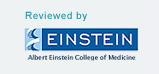 This site complies with the HONcode standard for trustworthy health information:
verify here.